Take your love for the great outdoors to new heights with these incredible treetop hotels. With contemporary amenities like hot tubs, fireplaces and treetop pools these modern tree houses are certain to astound. Around the world, you can sleep under the stars and feel like a kid again with these one-of-a-kind treehouse hotels.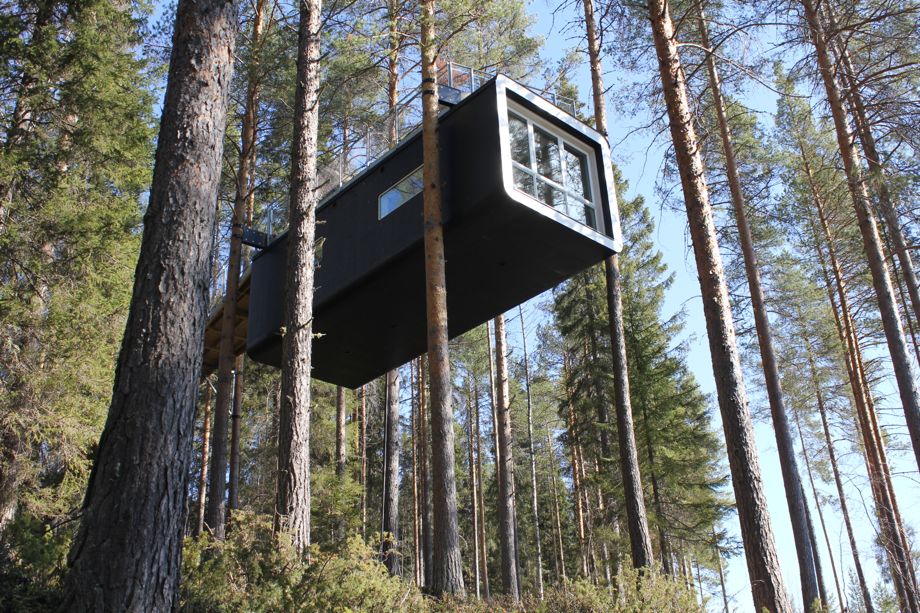 Treehotel, Sweden
Located in the small village of Harads, Sweden (population:600), the futuristic Treehotel is comprised of five unique treetop suites. During your stay, you can enjoy dog-sledding and snowshoeing in the winter, or go fishing and kayaking in the summer.
Treehouse Point, United States  
Just thirty minutes outside of Seattle is TreeHouse Point, an adult-only resort with incredible treehouse cabins. This is the perfect re-treat for those looking to re-connect with nature.
Ariau Amazon Towers Hotel, Brazil 
Located in Manaus, Brazil the Ariau Amazon Towers Hotel is one of the largest treehouse escapes in the world. Suites are equipped with private balconies overlooking the jungle and stunning views of the Negro River. There's even a treetop swimming pool!
Chateau dans les Arbres in the Dordogne, France  
One of the most lavish treehouse escapes is the Chateau dans les Arbres in the Dordogne located in No jals-et-Cloette. These elevated castle houses are model after traditional French chateaux's. Each house includes a terraced hot tub and a ground-level infinity pool.
Free Spirit Spheres, Canada  
Located on Vancouver Island in British Columbia the Free Spirit Spheres are not your traditional treetop escape. Find yourself suspended 10-15 ft. above the forest floor in one of these suspended spheres, as you're gently rocked to sleep in a floating cedar/ spruce orb dangling in an old-growth forest.